Before we even started looking at houses I figured in our first house our washer and dryer would have to be tucked away behind a door in our kitchen somewhere...or something of the sorts. I know sometimes starter homes don't have an allotted laundry room. You can imagine I was pleasantly surprised when we looked at our house before we bought it and it had a laundry room! I'm pretty sure I heard angels singing.
As much as I try to keep this room organized, it just doesn't happen. And this might sound strange, but it kinda feels good that it's a bunch of junk. I think every house needs a room where you can just throw stuff. Although, I do occasionally get on these kicks where "I JUST CAN'T STAND THIS MESSY ROOM" and attempt to organize and rearrange...let me tell you how long that lasts...not very. Want to know why? I have two words, my husband. But that's ok, to me, laundry rooms are made for messes. I'm just thankful that our washer and dryer have a room of their own and even some cabinet space,
glory glory hallelujah
!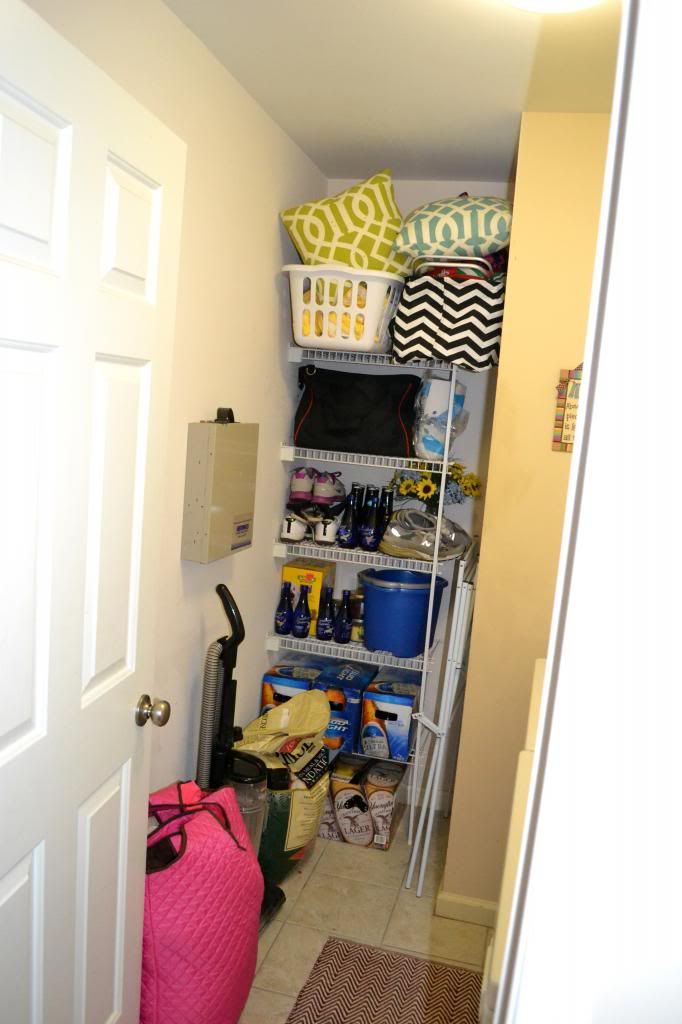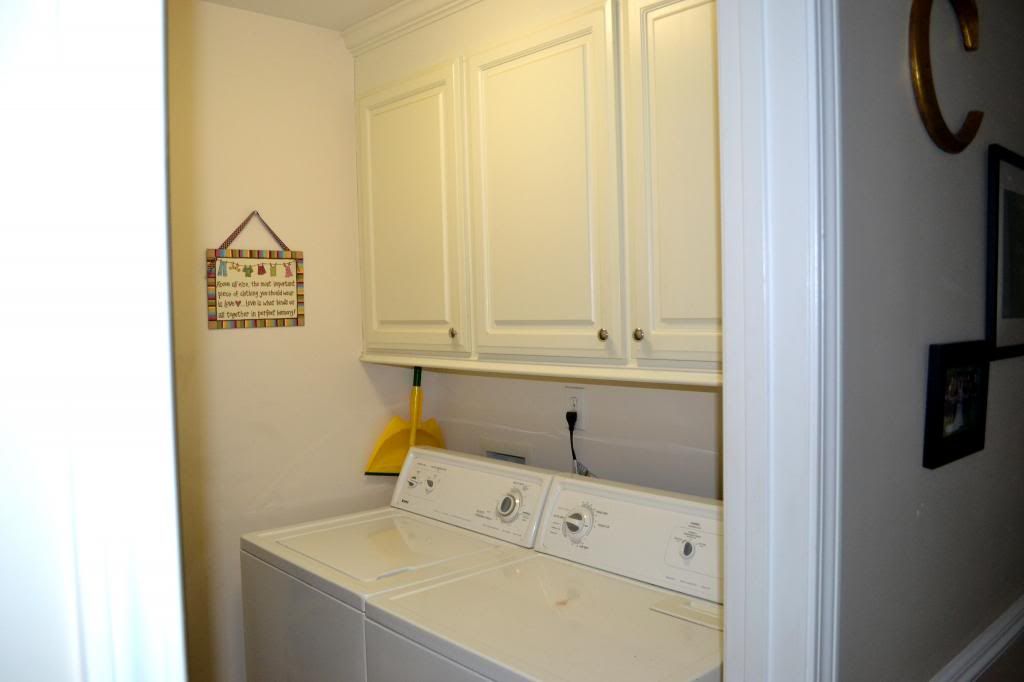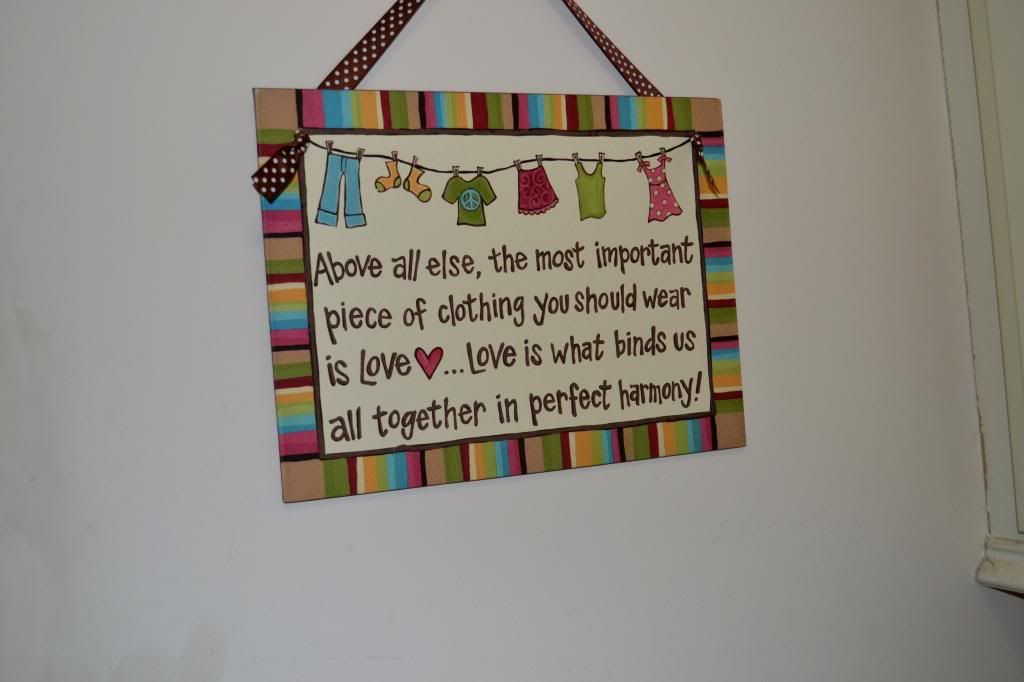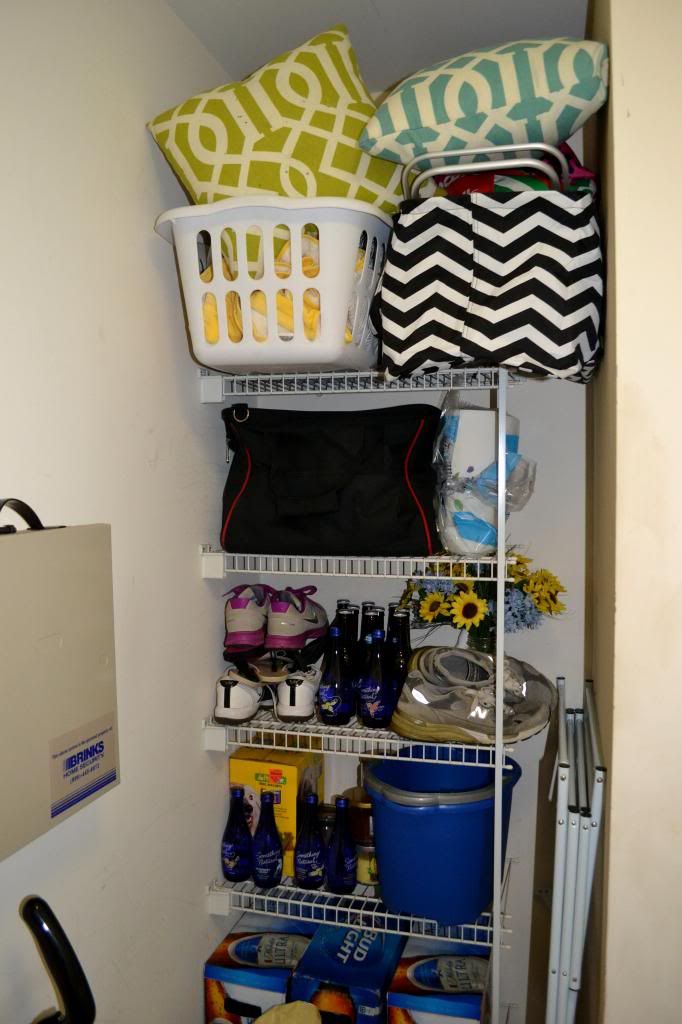 I feel like I need to mention that although it looks like we are alcoholics by how many cases of beer we are hoarding in our laundry room...we are not, ha! We had a lot left over from the wedding.
When looking for houses we knew that 2 bathrooms were essential. That was one thing we really didn't want to compromise on and good thing we didn't have to! Our hall bath is a full and just enough space!
We have shampoo, conditioner, and a toothbrush waiting on some visitors to come see us ;) My sister-in-law gave us the monogrammed towels for our wedding and I ADORE them. Truly. As for everything else that is in the bathroom, it's just a hodge podge of stuff that I've picked up when I've been out shopping. Not really any rhyme or reason to it, but I like it! I made the print next to the sink on picmonkey and had it printed it Walgreens and I bought the South Carolina print on Etsy for $4 bucks and had it printed at Walgreens as well.
This is Murphy's favorite and least favorite room in the whole house. If you're in here you better let him in or he is going to throw a fit and sniff at the door and stick his paws under it so you'll know he is there. That kid loves to be in the bathroom with you. It's his least favorite because in the winter this is where he gets his baths once a month and anytime Josh and I are in there at the same time he starts creeping around and tries to bolt. Needless to say...I'm ready for warm weather because his baths on the back deck are much less eventful.
In the hallway we have a gallery wall, which may or may not grow in the future, our family pictures from the wedding and my bridal canvas at the end of the hall. Those adorable frames that our family pictures are in are from Hobby Lobby! We also have our linen closet in the hallway.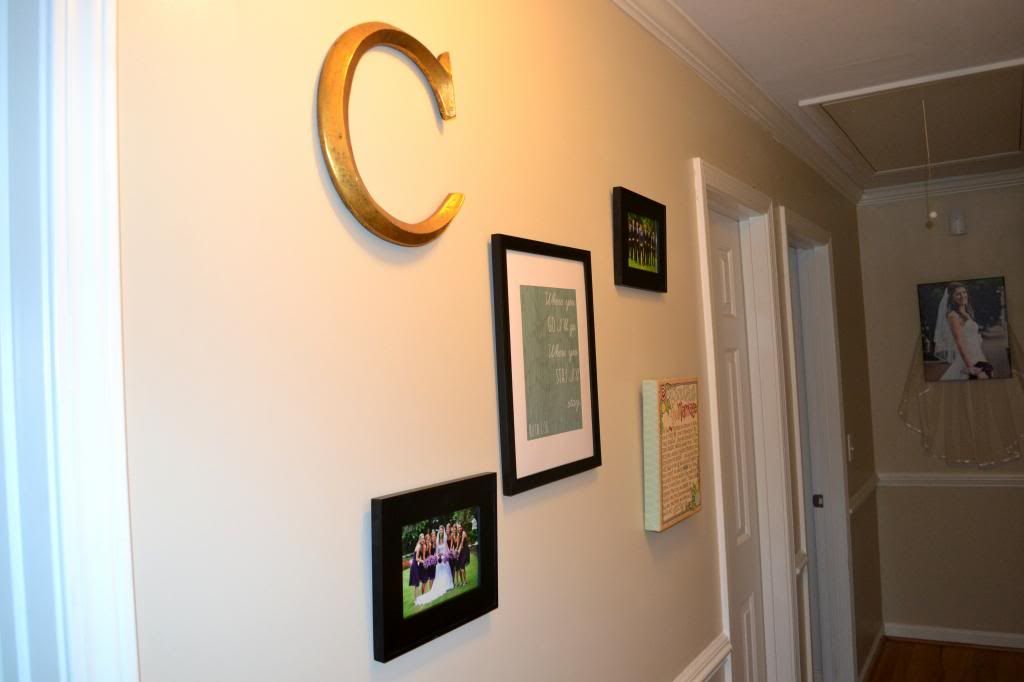 That is my veil hanging behind my bridal canvas. I REALLY wanted a way to display it and had thought about framing it and putting it in our bedroom somewhere but out of the blue one day I was cleaning out the guest room, FINALLY getting it all put together and I picked up my veil to put it in a safe place and thought 'this might look pretty behind my bridal'. So there you have it. I think it's different and cute but I don't want it to get really dirty so who knows how long I'll have it there.


I so enjoy sharing our home with y'all, thanks for following along!