I've been trying to hold off on giving the tour of our kitchen because I ordered a wooden monogram from Etsy to hang on our backdoor and the darn thing hasn't come yet...I'm actually a little worried about it because I ordered it WEEKS ago and haven't heard anything from the Etsy shop :( I really hope it comes...soon! So I'll do the tour and you'll have to imagine and nice wooden monogram in that backdoor window :)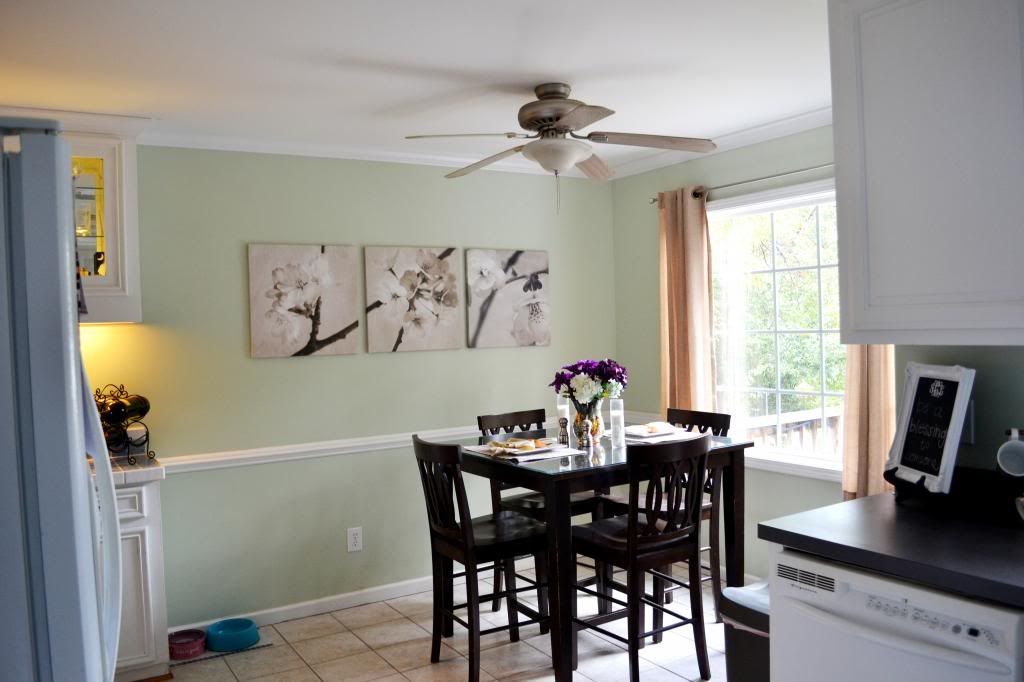 The kitchen might be one of my favorite parts of the house. I love the openness, the white cabinets, the cabinet space and the bar in the corner. I can't tell you how much we enjoy having a good amount of cabinet and counter space. We have plenty of room to prepare our meals without feeling cramped. We bought our table from the sellers as well as the canvases on the wall. Josh and I both loved the way the table fit in the space and adored the canvases so we made a deal with the sellers and I'm so glad that we did! The little spice racks you see, the sellers left when they moved and at first I didn't know what they were but quickly found out and I love that I can have my spices right next to me, as well as a place for paper towels and even rings to hold your pot holders!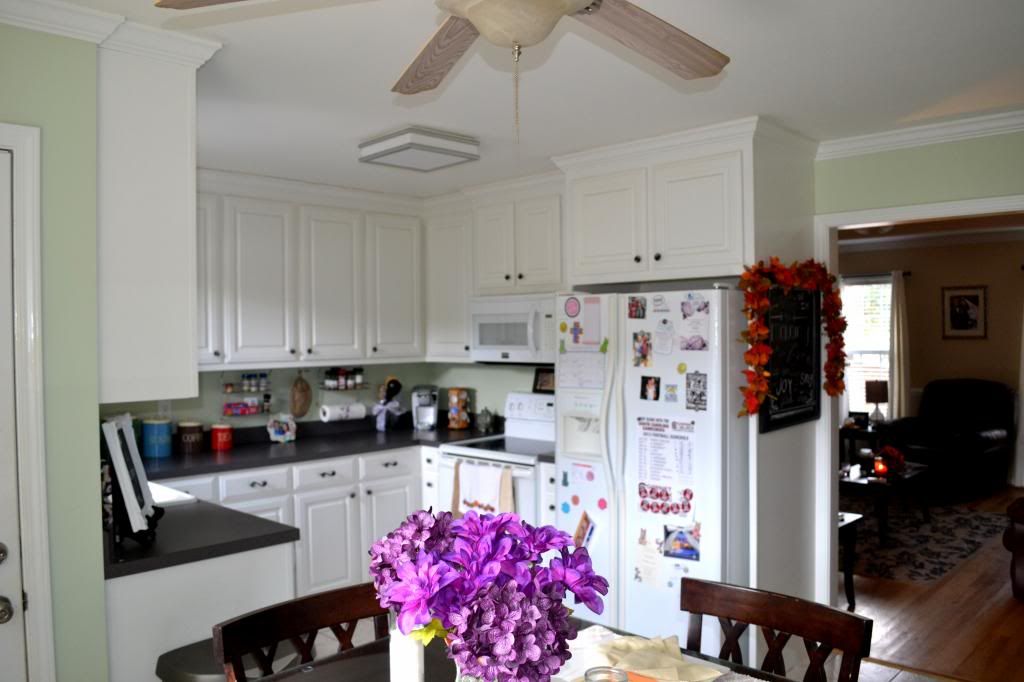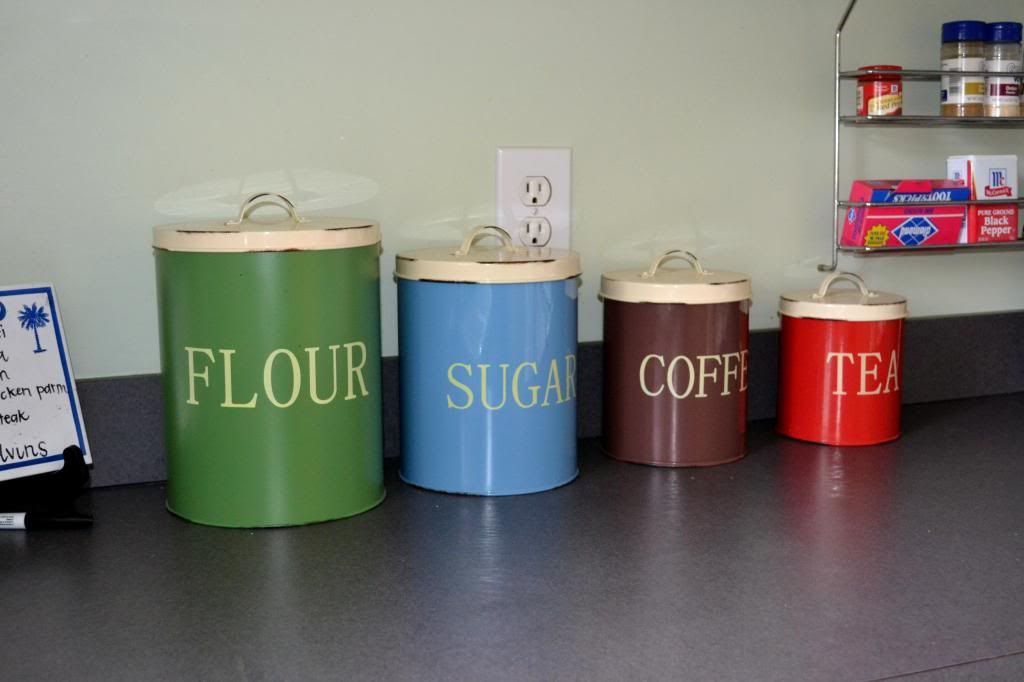 A lot of time is spent in the kitchen and I think that is why it's one of my favorite rooms in the house. Josh and I cook in there together, laugh, dance, contemplate life, and just a little bit of everything.

The bar, while clean now, is our catch all place during the week. I love that we can display glasses in the top cabinet and the actual bar is GREAT for having people over. You can line it with lots of snacks so that its easy for people to get to! And you don't have to clutter your kitchen table with goodies so that people have a place to sit and enjoy. There are also lights that light up the top cabinet and lights under the cabinet that light up the bar. I like to have them on in the evenings so there's a little bit of light coming from the kitchen.
I also really love the big window looking into the backyard. We went a day without curtains there and quickly decided we needed some to close at night time haha! I'm also a big fan of the tile in the kitchen...I'm so glad that the previous owners did real hardwood and real tile throughout the whole house. This tile is also in both of our bathrooms and around the fireplace.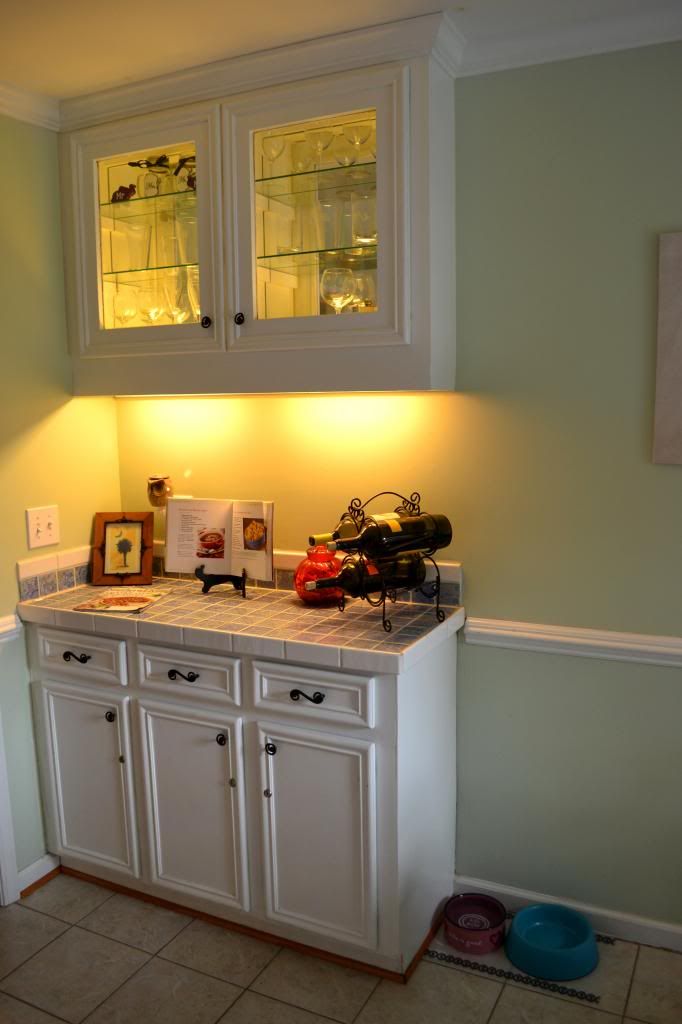 Murphy has his own little place for his food and water. I initially bought his pink water bowl this summer while in Panama City at the Life is Good store for whenever we got a dog, clearly I assumed we'd get a girl dog lol but something tells me he doesn't mind the pink. We got his blue food bowl from Target and the little dog bone mat underneath from Pets Smart.
So there's our kitchen, the place where many of my
wife fails
happen, the place we gather to enjoy dinner together and have nice table conversation.
And here's one for the road...Murphy must go in and out of his doggie door 100 times a day and he often sticks his head through to see what's going on then pulls it right back out and goes frolicking in the yard.