This is only the second time Josh and I have made chicken parmesan but I think it will be hitting our weekly menu much more frequently. It is SO good and so filling! Not to mention, it's not hard at all to make!
Here's what you'll need:
--boneless, skinless chicken (you can do breast, tenderloins, whichever you like)
--spaghetti sauce
--mozzarella cheese (shredded)
--parmesan cheese
--bread crumbs (I used Italian)
--one egg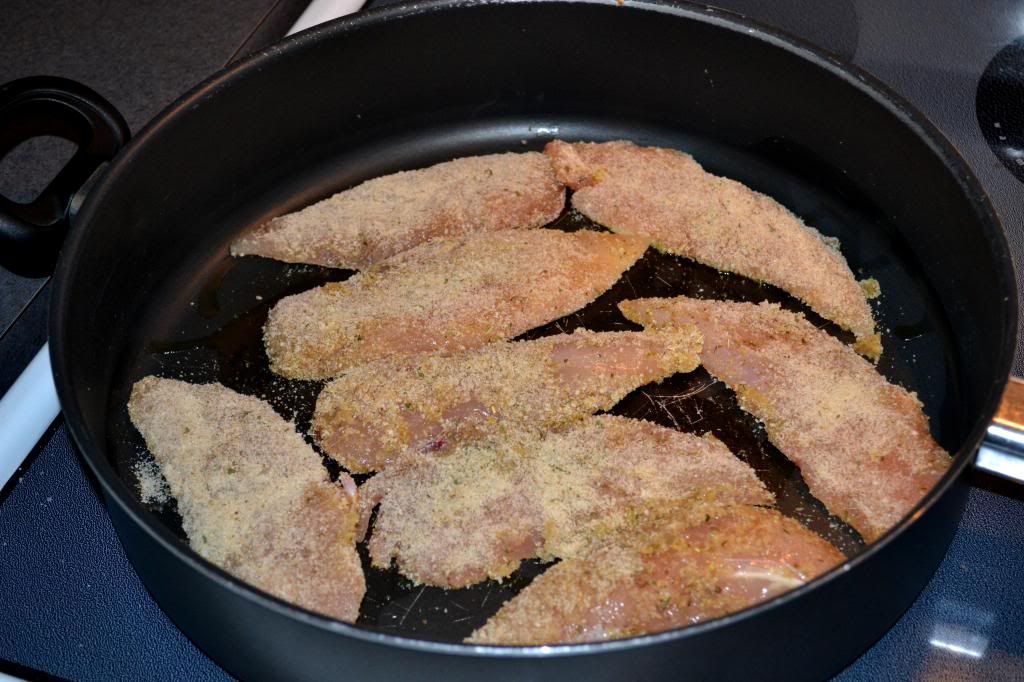 Coat your chicken with a little egg and then cover them with breadcrumbs. I push the breadcrumbs into the chicken really well so that it sticks. I also put a little oregano and garlic powder on my chicken before I bread them. After all of the chicken is done put it in a pan and fry it up! I put a touch of olive oil in the bottom of my pan.
While that's cooking get out a baking dish and pour 1/2 half of your spaghetti sauce in the bottom. Once your chicken is done, place it in the baking dish and then pour the second half of the spaghetti sauce over the top. The recipe I follow says to put 1 cup of mozzarella cheese on top of this and 1/2 cup of parmesan. I do one cup of mozzarella and then sprinkle some more over the top and I do the same with the parmesan, do the called for 1/2 cup then sprinkle extra on there.
Pop that bad boy in the oven for 30 minutes at 400 degrees. In the meantime boil yourself a pot of pasta. The last time I made this we had to combine tricolor rotini and spaghetti noodles together because we only had 1/2 a box of the rotini left over.
Once your 30 minutes is up, take it out of the oven, fill your plate with pasta and put the chicken and sauce on top. Make sure to get the extra sauce in the pan to cover your noodles with, it is SO good!
And there you have, easy peesy chicken parm that is sure to be a winner at your dinner table!