The beautiful and talented Shanna at
Because Shanna Said So
just got back from her fabulous trip to London because she is Wallis' US Ambassador. She's been recapping her London trip this week and it's made me
looooong
to be back there. Then it dawned on me
dang it, I didn't do my full recap of my trip.
Life sure does get in the way sometimes huh? Well noooo fear, I am here today to fully recap London!
As you remember I went for Spring Break which was about mid-March. We left Atlanta on Thursday evening around 10:30 pm and arrived in London the next day around 12:30 pm. When we were landing we were almost ON THE GROUND before you could even see anything because the clouds hung so low. And it was cloudy quite a few days but we have TWO full days of sun on our trip and if you know anything about London, then you know we got really lucky. Sunny days are few and far between across the pond. We stayed in a hotel called the Celtic. Our rooms were teeeeeeny tiny and it was community bath and there was no AC or heat, just a little heater that we had to cut on at night or else we would have frozen to death, ha! Also, there was a knob for cold and a knob for hot at the sink which you couldn't have on at the same time. So you either had ice cold or scaulding hot water. However the location of the hotel was perfect and everything was little right outside of our door and it was a great price to stay there and we got a FULL and I'm talking, eggs, bacon, sausage, juice, hot chocolate, coffee, toast, cereal AND porridge breakfast every morning. I think the breakfast is what I missed most when we left.
I opted to not use my cell phone at all and took my tablet. I skyped home or facebook messaged with my family just about everyday. They lobby has wifi and we all had to fight to sit in the right spots to get the best service, it was quite the sight in the evenings when we were all trying to phone home.
I'm not going to recap each day in order, I'm just going to go through all that we did. We saw the changing of the guards at Buckingham Palace and I was in love. Oh my goodness, I love the royals so being in a place they frequent, oh I was beside myself. And if the queen is in, her flag flies atop the palace and wouldn't you know her flag was up one day when we went! I also couldn't get over the fact that I was looking at the balcony that Will and Kate graced on the day of their wedding. The guards jobs kind of looks like it sucks but it was neat to see what a production that put on everyday to change the guards. Horses, trumpets, music, tons of guards, it was really neat to see. We rode a double decker bus and we got to ride up top and as fun as it was, Lord have mercy I thought that bus was going to hit everything in sight! London folks drive cray cray, really they do. And the drive on the opposite side of the car and street so you have to look the OPPOSITE way before you cross the street or else you're toast...you don't want to know how many times I was almost toast. We rode the London Eye one day and it was magical. The thing is HUGE and so modern! When you're inside of it you can walk all around it and literally see every place in London. Also there was the greatest thing known to man right beside the Eye...two words, chocolate waffles. Holy cow. If you ever go to London, go down near the eye and there is a little waffle shop right next to it, you must stop. It is the greatest thing I have ever eaten...ever.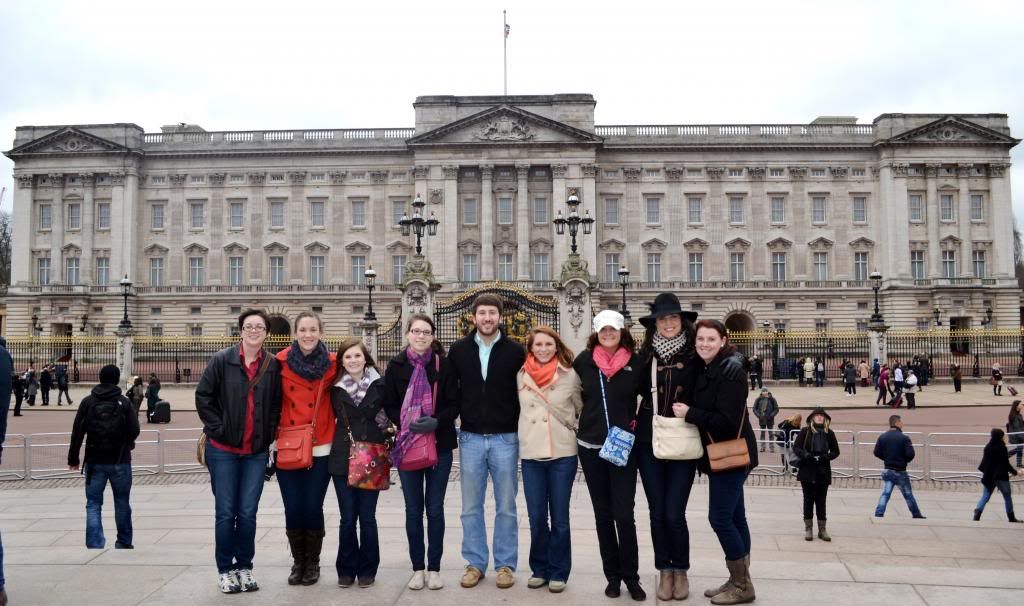 How about the tube?! We rode it everywhere. We got Oyster cards which get you on and off the tubes and London is broken up into zones. Our cards took us through zones 1, 2 and 3 and that covered just about all of the city. The tubes are a land of their own. You better grab hold to your purse and put the petal to the medal while you're inside those things. People are pushing, running, and there are people ALWAYS filling the tube, so so so busy. And have mercy if you really needed to be on a certain line and it was full, you'd push your way through anyway. I can't tell you how many times we stood on there literally packed and standing right up next to the person beside you, it was madness. But kind of fun I must admit. Every time you got on and off the tube it said "mind the gap" and we got a kick out of that. Instead of saying watch your step, watch your head, etc. they said "mind" in London, it's hilarious.
We went to the Victoria and Albert museum and the Natural History museum one day and both places were so neat. The V&A has tons of history that was so neat, it was definitely worth going to and spending a few hours walking around in there. The museums are also always packed. We went to an evensong service at West Minster Abbey and man oh man what a stunning place, the most beautiful church I have ever seen. Also another awe struck moment because KATE WALKED DOWN THAT AISLE. And William Shakespeare is buried in there which is pretty cool too...but not as cool as the royal wedding, ha! You couldn't take pictures in there which made me sad because it was so huge and decorated with so much detail that it was hard to take it all in. The service was beautiful and was mostly singing. We also went to St. Peters one day and explored around, another stunning sight. I wish we had beautiful cathedrals like that in the states!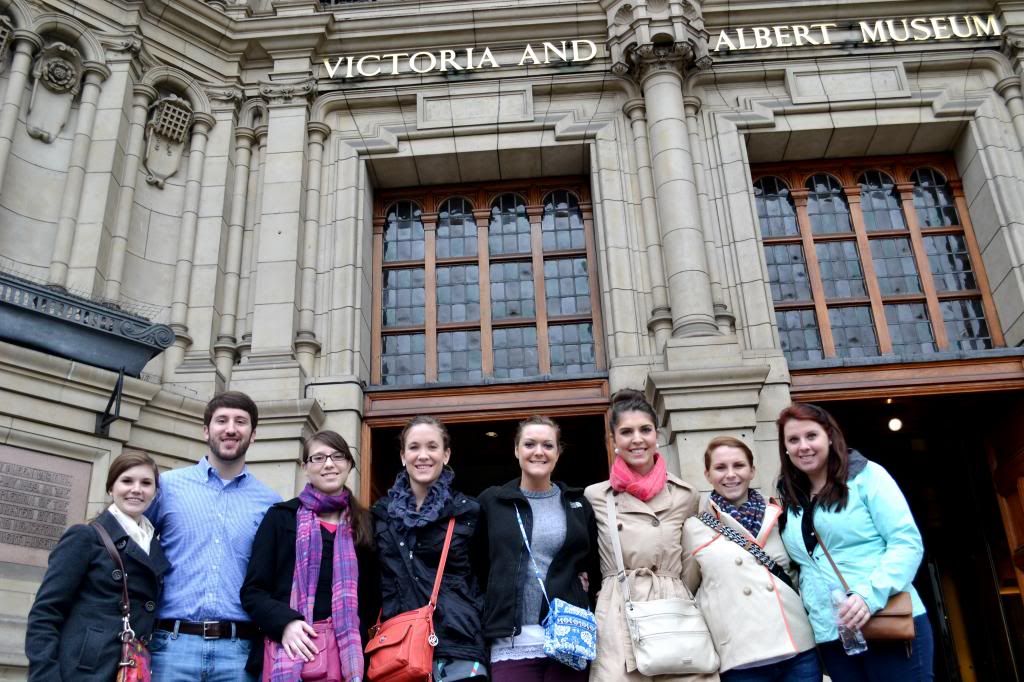 Oh and on a side note, people in London think that everyone that is from America with the slightest hint of a southern accent is from Texas it was hilarious how many times we got asked if we were from Texas. We saw Big Ben and parliament and it was almost a surreal sight to see Big Ben because it is so iconic and beautiful at night time when it is all lit up. We went to Her Majesty's theater and saw Phantom of the Opera last night and we had magnificent seats. One balcony up, front row, it was awesome and the production was phenomenal, the cast was great! We also went to the M&M store and it was massive. I've been to the one in NYC but being in the one in London was so much better ha! They had the M&M people set up like the Beatles walking across Abbey Road on the bottom floor, very creative. We took a tour of the British Library and got to see the original Magna Carta and the largest atlas in the world!
We visited Shakespeares Globe and crossed the Millennial Bridge and the London Bridge...which is not as fantastic as I was expecting but the Tower Bridge, holy moly, beautiful! On a side note, we probably walked close to 20 miles a DAY so good walking shoes are a MUST when traveling in London. We visited Kensington Palace which is where Princess Diana lived for a long time and again, another place I was in awe of! AND Will and Kate have an apartment in there :) London also has tons of parks so we ventured through those and saw the Peter Pan statue and Princess Diana's memorial.
We toured the Tower of London one day and I got to SEE THE CROWN JEWELS with my own two eyes. I was in heaven, you have no idea. You get on this moving platform type thing to view them so they can push you along a little quicker...well just so happens no one was behind me on the platform so I kept walking backwards so I could look at them over and over again. They were so beautiful and sparkled like no other, I could hardly believe I was looking at them! The tower was so neat because it used to be the palace for the royals, like Buckingham is now and a lot of killing took place there, a lot of famous killings. It was like a land of it's own once you got inside.
Let's talk about the shopping in London. It was a fashionistas dream. Stores, everywhere! There was this store called Primark, 4 stories, HUGE, clothes ranged from about 2 pounds to 15 pounds...CHEAP! And the style in there was like no other. Beautiful pieces of clothing and tons of clothing to look at. I swear we visited it like 12 times on our trip and the great thing? There was one practically on every block! London has more shopping than you can imagine, F21, H&M, TopShop and Primarks were on every street corner. There is also a department store there called Harrods which I referred to as a Macys on steroids. It was 7 floors, massive, and the designers inside were Christian Louboutin, Vera Wang, Manolo Blahnik, etc. you get the jist, expeeeeensive.
We took a day trip to Stonehenge, Jane Austens house, and Winchester. Stonehenge was really neat to see but COLD, holy crap. I'm talking like negative degrees and the most wind you have ever felt in your life. People from out hotel had told us how cold and windy it was but it's something you can't understand until you get there. Absolutely freezing, as soon as I stepped off the bus it took my breath away, literally, because that's how cold it was. But I was determined and toughed it out and walked the whole way around the structure. I forgot to to mention that a professor from our school rented us a super nice bus for our 2 hour trip outside the city for this day, so nice of him! After Stonehenge we went to Jane Austens home where we thought we were touring her house but there was some miscommunication and we toured her brother's house, the Chawton house, instead. We did get to see her house though and her brothers house was really neat as well. As fate would have it, after I snapped 2 pictures of Stonehenge my camera died. But I have lots of vivid memories and everyone else on the trip took pictures and shared! We finished the day at Winchester which is a little town outside of London and they have a university there where some of our students from Lander were studying abroad so we had lunch with them at the school and took a tour then took a tour of Winchester Cathedral...the longest cathedral in Europe and another beautiful one, I LOVED our tour guide there. It was this old man that was hilarous! I forgot to mention earlier that when we went to the service at West Minster we saw a real life nun! At the University of Winchester they have bars and clubs INSIDE the school. The bottom floor of there student center was full of chic furinture, dark lighting, and any beer and drink you could imagine. I thought it was hysterical that they most popular bars and clubs were inside the school. I guess it keeps their students safe because they don't have to travel? Definitely a stark contrast from Lander because we are a dry campus.
Some funny things: they call potato chips crisps and they call french fries chips. They say "mind" instead of "watch", they call their trash rubbish, they call their bathrooms toilets (and there are hardly ANY public bathrooms!), they have porridge instead of grits, they drive on the opposite side of the street and all of their cars are tiny, they call the subway the tube, they don't tip at restaurants and I'm sure I'm forgetting half the interesting things they say or do over there!
It seems hard to recap a 10 day long trip but I think I covered most everything. It was a great experience and I hope to go back again one day because I know Josh would love it over there! London, you're a great city and my fingers are crossed that I get to come back and see you again soon!