Today I wanted to share a story from this week that was in the devotion book that my sorority does . We are doing the study guide to the book Authentic Beauty by Leslie Ludy. (Definitely recommend it for a group study for women!)
This short story is by a 21-year old girl named Gabrielle, it's entitled Living for an Audience of One. It won't take you but a few minutes to read and I highly recommend it!

--------------------------------------------
"For the past 3 years I've been living on a secular college campus. It is here that I have learned what it truly means to be set apart. Modern-day Christianity dictates that we should remain pure, but we shouldn't ostracize ourselves from society by becoming different. So Christians do whatever we can to remain "cool" while remaining technically "pure". We are told that that's the best way to reach out to others. But is that really true? It makes me wonder: Are we changing the world or is the world changing us?
I have learned that if I desire to live a life that is truly set apart, it is impossible to always please the crowd. I have decided to live my life for an audience of One.
I picture myself on a stage in front of a crowd. I am going about my day, and I look over to the left side of the crowd that is watching e. They are all smiling and clapping, ad I feel accepted. But then I look over to the right, and I see the crowd there screaming and booing at my "performance". I feel discouraged and brokenhearted. Wasn't it my goal to please the crowd? I ask, God, how can I ever live to the please the crowd? How will ever know what is the right thing to do?
But he simply answers Look at Me. I take another look into the crowd. There, in the front row, I see Jesus. I look into His face, so full of strength and peace and life--abundant life. And suddenly, I realize what it is I need to do. I need to live a life that please Him, the One who loves me more than any human being ever could.
So I begin to live again. Only this time, I live with only His desires in mind. At first I still notice the crowd with its boos and its cheers. It's hard not to be distracted, but I keep living for Him alone, sitting in the front row. Then one day, I look out into the crowd and I notice Jesus, only Jesus.The crowd has disappeared. I am left with my audience of One!
I had a friend who encouraged me to wake up each morning and pray this prayer: Lord, today I give You my life. Do with me what You will. And if at the end of the day You are pleased, that's all that matters. That simple prayer of devotion has revolutionized my life. The concept of living for an audience of One has changed the way I think and act. I still sometimes grapple with the need to please the crowd. But He is ever faithful to show me that He is always there sitting in the front row, smiling. And when I remember that, all I want to do is live for His pleasure."
--------------------------------------------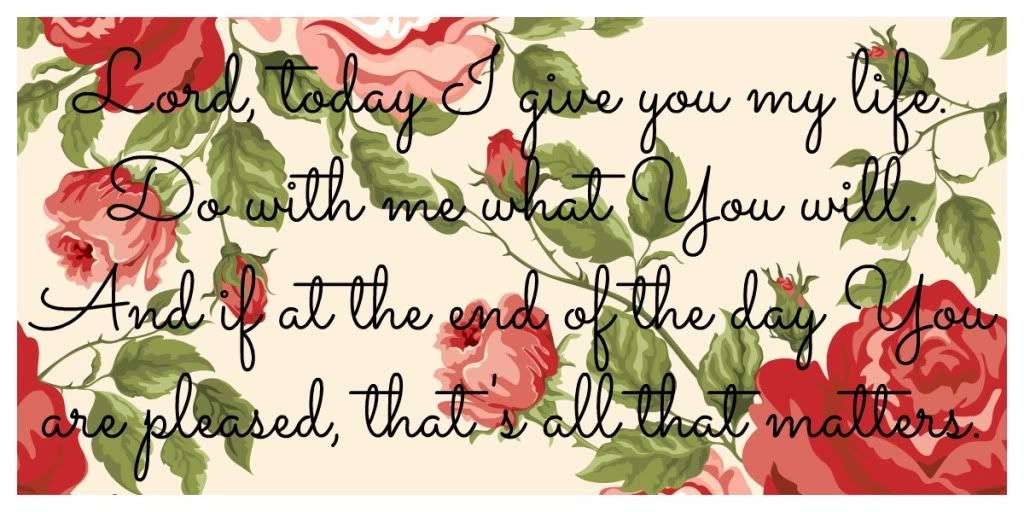 Perhaps you will print this prayer off and put it on your mirror, on the back of your door so you see it on the way out, the visor in your car?