Hey friends! Sorry I've not been around a ton, life's been busy...I'm sure you can relate.
Ever since I've been home I have been on the go nonstop. I got one full day at home and it poured down rain and I stayed in my pajamas all day, it was fabulous. After that day it's been go, go, go. Daisy cuddled with me on my one day home, love that sweet girl.
Today, Josh and I went to his family to celebrate Christmas. We had a terrific time and they are so sweet and loving to me! I am getting a great set of in-laws if I do say so myself! :)
Last week after Josh and I had gotten home from doing the last of our Christmas shopping mom surprised us with a mini engagement party! It was super laid back and my family just came over, we ate some seriously great cake and then opened a few gifts.
I also caught up with tons of friends this week. It's amazing how much you realize you miss someone when you haven't seen them in...oh years! And a few that I just haven't seen in a few months. My friends Kellie and Kayla got me an apron with my new monogram on it...can you say obsessed?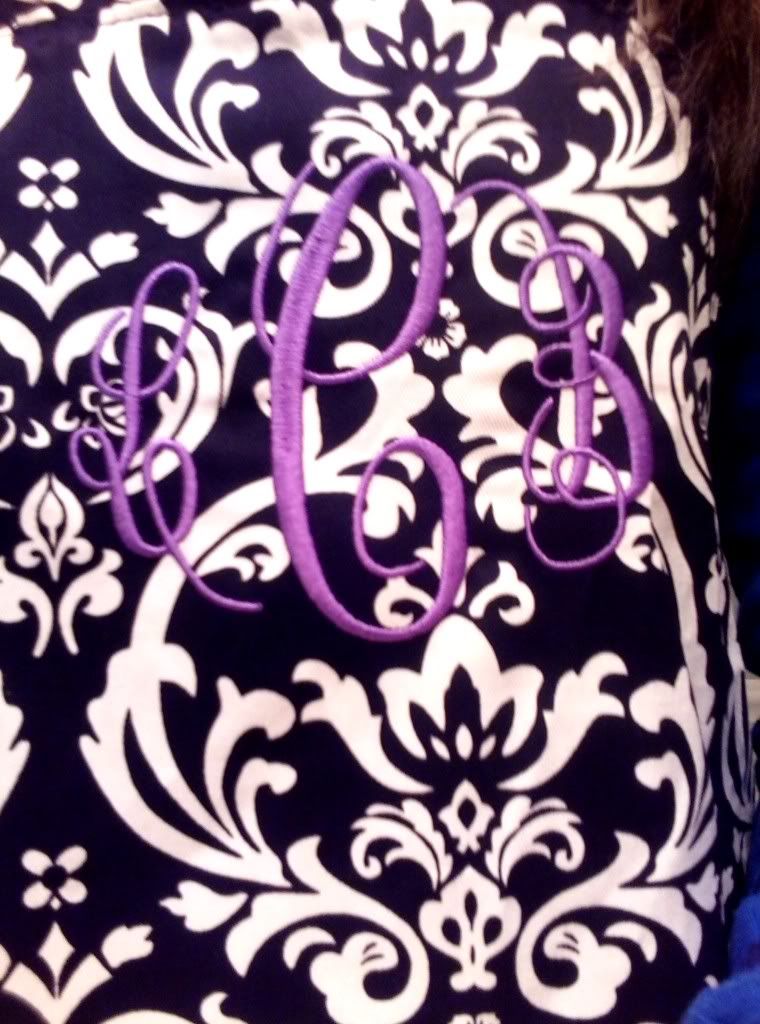 Kayla, Kellie, and Rebecca also came over to my house one night. We literally painted nails, looked at magazines, and chatted for over 3 hours. I also proposed to Kellie with a shirt of mine that she has loved FOREVER...I'm talking like, since 10th grade, and I gave it to her. It was a precious moment, haha!
My sweet, sweet friend Tesla sent me this picture of the necklace she made for me for Christmas, it's an L and a J! Little did she know I have been LUSTING over these on Etsy but thought they were pricey and she is so creative and made one! I can not wait to sport this beaut. Tesla you are a jewel and I appreciate you so much!
Mom and I began wedding dress shopping, talk about exciting! And kind of overwhelming LOL!
Christmas shopping traffic has been INSANE in Columbia. Like, absolute madness. So many fender benders, people paying zero attention while driving, ugh it's been awful! And the stores...don't even get me started. Thank goodness I got done with most of my shopping relatively early so when I go out now it's not like I have to get something, I can just browse. While out this weekend I did wander my way to a clearance rack in Tar-jay and found this gem. For $4.
Something else very exciting happened this past week and I can't wait to share it with you! I promise I will share it soon.
Tomorrow Josh and I are doing our Christmas and going ice skating, wahoo!
I hope everyone is having a fabulous holiday season!