You guys...it happened
I RODE AN ELEPHANT AT THE STATE FAIR!
If you're new around these parts let me let you in on a little secret...I LOVE ELEPHANTS. I'm talking obsessed, I have a stuffed elephant named Arn, elephant jewelry galore and elephant statues and random elephant things filling my room.
So Josh and I are just walking through the barns at the fair, naturally I'm cuddling and snuggling with the cows, petting the rabbits and so forth and we round the corner and lo and behold a sign says:
"ELEPHANT RIDES"
I'm pretty sure my heart stopped. I was beside myself. I didn't care what I had to do or pay to get on the elephant, lucky for me it only cost $5 for a ride. I bought my ticket and jumped in line...with the 10 other children under the age of 5. My turn came and I was ecstatic...Josh was standing at the gate camera in hand. I got on that bad boy and was literally bent over the top of the elephant petting its ears and talking to it. See Exhibit A:
The ride was way too short but I enjoyed every second of it. Two little boys rode with me and I kindly moved to the back so they could sit in the front. So naturally, I petted the elephants butt the whole ride, haha! I was waving and cheesing like a little kid, it was GLORIOUS. And PLEASE get this, I took a chance and brought my SLR along because I wanted some good photos at the fair...and of course I was like "oh my gah we're so getting pictures of me on this elephant"...well the thing was dead, talk about a bummer! Lesson learned.
Speaking of the fair, it's in town for the next 2 weeks aka the crazies are out on the loose. The fair really does bring out some strange creatures. Josh and I hit it up on Friday night and it was perfect weather! We ate some seriously greasy food, saw some awesome exhibits, went through the animal barn, watched a hypnotist show, slid down the jumbo slide (I beat Josh every time haha!), rode some rides and had a faaaabulous time.
Thanks for being good to use again State Fair and thanks for being such a great place for people watching!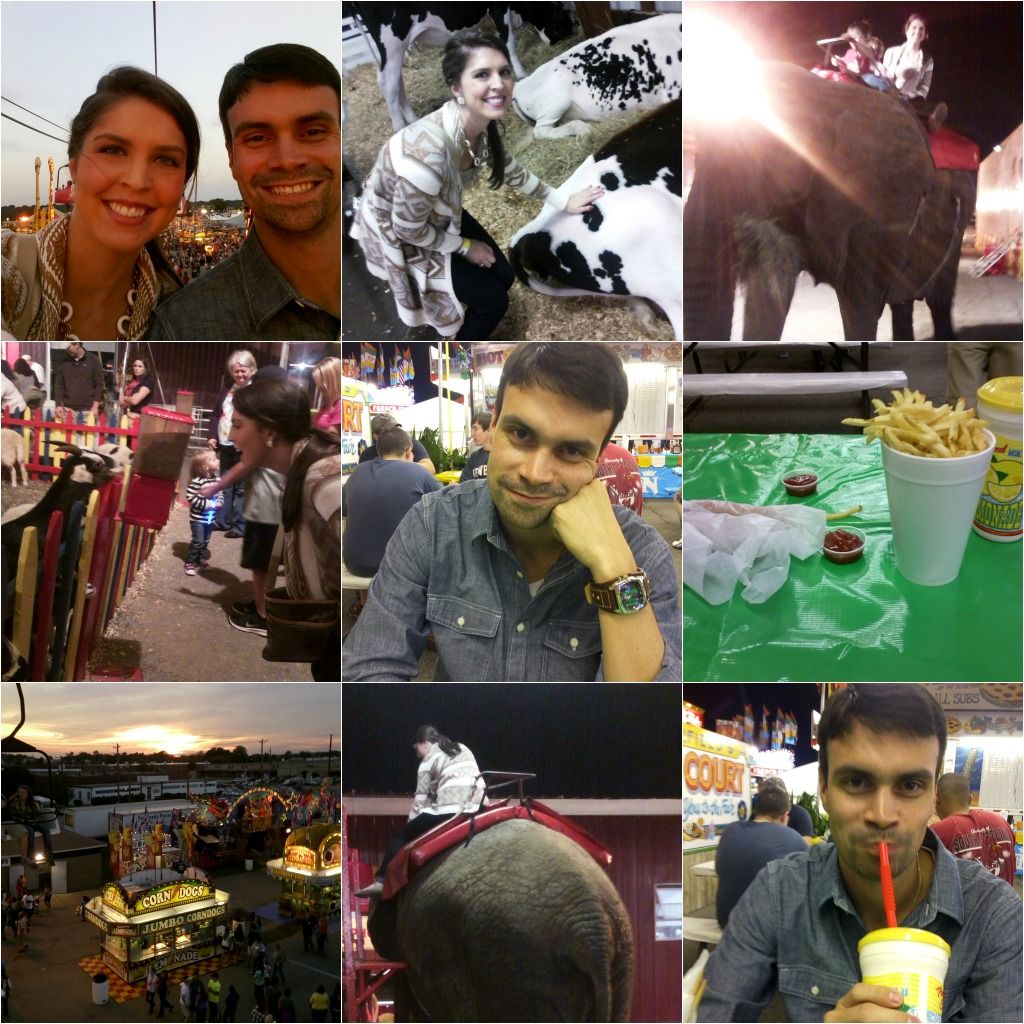 Promise I'll quit sucking at blogging this week. I have an outfit post and a craft post ready to go for this week! And I'm on fall break, hallelujah!