High Five for Friday friends!
Sorry I have been a little MIA this week, I've been wanting to blog, just had nothing creative to blog about, booooo :( I have a few outfit posts up my sleeve but taking pictures of yourself is hard work and my pictures are turning out blurry for some reason, no good. So I'm working on figuring out what's making them that way so my outfits can start gracing the blog with their presence soon.
But for today, we're celebrating Friday!
1. I'm home for the weekend and today I'm lounging around with my puppies, I miss them SO much when I'm gone. We do a LOT of snuggling when I come home.
2. I get to see my best friend Griffyn today! I miss her so much when I'm at school and we have annual frozen yogurt dates when I am home.
3. Carolina plays Georgia this weekend AND ESPN Gameday is in Columbia AND Darius Rucker is in town AND Jason Aldean and Billy Currington are playing a concert outside of the stadium before the game. Columbia is going to be CRAZY this weekend, I'm talking PURE madness but it's going to be great! GO COCKS!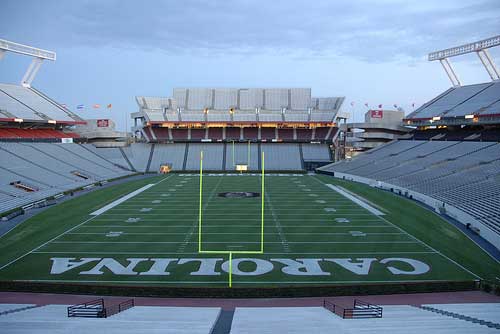 4. I get Bravo, Style, and E! since I'm home. Can you say catching up on shows over the next 3 days!?
5. I get to enjoy food that is NOT caf food since I'm home for the weekend. God bless Mama's cookin'!
Have a great weekend y'all!