Lord have
MERCY
. Did anyone see the NBA Finals game last night?!
The Heat
brought it.
I mean Mike Miller made so many 3's I couldn't keep count. Chris Bosh, Dwayne Wade, Shane Battier, Mario Chalmers and my fav LEBRON JAMES killed it last night.
What a well deserved win.
So glad to see LeBron finally get a ring. Let me give you a back story real quick: My senior year in high school I was a teacher cadet and every Wednesday morning we did reading buddies. Well my reading buddy was with this guy, Tovay. And it just so happens that Tovay is OBSESSED with LeBron. I'm talking
loooooooooves
LeBron. We read...
EVERY
, let me repeat that,
every.single.book
in the library about LeBron James. We even had the librarian get more books brought in from other libraries. So I know everything there is to know about James, ev-er-y-th-in-g.
With that being said, I was so happy to see him win last night. They all looked ecstatic.
Sooo....TEAM HEAT!
I was sad to see OKC lose though. I just can't take it, I hate when someone has to lose.
Ok, now on to Fridays Letters with
Ashley
!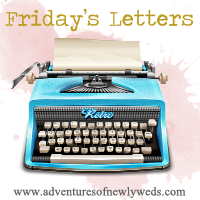 Dear Weekend,
so glad you have arrived! Off to see Lady Antebellum in concert tomorrow then headed to the beach for a week after. Excited is an understatement.
Dear Daisy
, you are the most precious dog ever. I love throwing your ball for you an going swimming with you. You are so sweet when you cuddle with me, you're a good dog, you know that?
Dear Weather,
although you've been hot this week, please keep up those clear skies for our vacay.
Dear Josh
, I can not WAIT to head to the concert tomorrow, thank you so much for surprising me with tickets. And I can't wait to spend a week at the beach with you. I know you are in desperate need for a vacation and I'm beyond happy that you are about to get a week off of work, you need it and it is well deserved. I'm proud of you for the decisions that you are pondering over and making things great for yourself.
Dear Mom and Dad,
enjoy a quiet house while I'm gone next week, don't worry, I'll bring my noise back shortly.
Dear Readers,
you guys are awesome! Sweet comments, new followers, just everything...Thank you thank you thank you! There is a giveaway coming your way VERY soon, stay tuned!
Have a good Friday lovebugs!