For the first time today I am linking up with Meg and Anne for the Bachelorette Dish!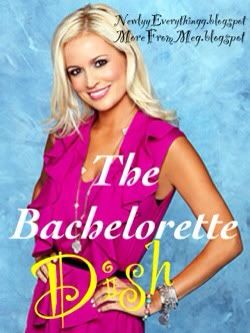 So let's get started shall we?
I can't decide how I feel about Emily...hope I don't lose followers over this one but sometimes she just rubs me the wrong way. Can't exactly put my finger on it. I LOOOOOVED her like no other on Brad's season but this go round she just seems a little something different.
First things first- I am team Arie. I like him and Emily's chemistry together and he seems like he isn't trying that hard and things come very natural between them. To me, the deal was sealed when he was comforting her after the whole Alesondro.
And Alesondro, REALLY dude?!? But lets be serious, why did he make it this far anyways? Heavens to betsy.
I liked Ryan right from the beginning but after tonight I wish he'd show himself the door. Tooooo arrogant, no thank ya. He needs to quit talking so much and just be normal, I don't get all the cockiness.
Sean, I like him. He's genuine, really nice, and says all the right things. He definitely needs to hang around. Bonus points for you fella for talking about your faith. Go head fred!
Next up, Kalon. Ohhhh Kalon. I hope I don't lose followers over this one either but I don't hate Kalon. I don't love Kalon but I don't hate him. I feel like somewhere deep down inside he is a nice guy but just doesn't know how to show it. As Emily said last night, I think his mom did a great job of raising him but he just puts himself a little too high on a pedastol. If he just chilled out a little maybe he wouldn't be so bad. And I must admit, the guy can dress.
I wish I could comment on Chris' date but the phone at the house was ringing off the HOOK during his date and my dad was trying to figure out how to skpe me at the same time...it was madness. I thought my mine and moms head was going to pop off there was so much noise during our show, haha!
Overall, this seasons episodes have been slightly boring. Which isn't a good OR bad thing to me. So we will see how this continues to go.
Happy Tuesday everyone!