Oh buddy, did mark. Next Day Spray save me yesterday morning.
Here's the story, I knew before I went to bed that my phone was acting a little funny and acting like my memory card wasn't in there. But it does this every now and again and eventually just catches up with itself. Well, I had set my alarm before this little incident happened and apparently after my phone thought it didn't have a memory card in it, it didn't register that I had set an alarm. So the morning rolls around and I wake up at almost the same time every morning but I refuse to look at the clock because I know my phone will soon go off. Well I heard doors shutting outside and I knew it had to be around 7:30 and people were leaving for their 8 a.m.s because its the same routine at the same time every morning. Well I knew my phone would be going off soon so I was just laying there, and apparently I fell back asleep and woke up at 8 and was like "something is odd, let me check my phone". Oh yeah something was odd, it was 8:01 and my alarm didn't ring at 7:30 like I had it set for. AND it's Wednesday which means hair washing day. Did I have time to wash my hair this morning? Not a chance.
So, I was actually feeling pretty good after those 30 extra minutes of sleep and I didn't freak out a bit. Thank goodness I have a next day spray. I lifted up my hair and sprayed it really good in my roots and oily spots. Then I got out by blow dryer and brush, went to work for about 2 or 3 minutes and voila! My hair looked good. I was extremely impressed.
If you're looking for a great spray to use on your hair if you don't like to wash everyday or don't have time...here is your best friend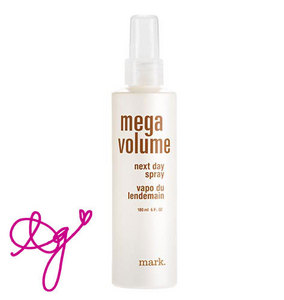 This stuff is like magic, I kid you not. AND is THE best smelling stuff you'll ever use, that is no exaggeration.
I definitely recommend this product and the best part?! It's 6 bucks!


Happy Thursday friends, ALMOST FRIDAY!! Three cheers for that!