Today I have a fabulous and very sweet blogger to share with you. Give a round of applause for Meg!
You can find Meg over at
Sweetly Complicated
. Prepare yourself to see an adorable blog when you click on that link! Meg is
very
sweet and
very
southern, she is just a doll! (Check out her vlog from the other day, I thought it was precious!)
About Meg:
"Hey y'all I'm Meg. I am a Texas girl with a passion for life as big as my state! Here at Sweetly Complicated I blog about teacher stuff, food, crafts, display my photography and how the Lord uses it all! I have loved every moment of blogging and am blessed to have met and read about so many peoples everyday adventures. I love the stories of encouragement, strength, love, food, fashion, courage, brokenness and gettin all crafty! Come over join the party!"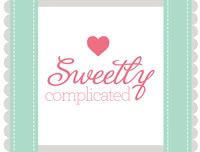 Head over and visit Meg's blog and show her lots of love, you will not be dissapointed :) It's one of my favorite blogs to read, so I'm sure that it will become one of your fav's too, if it isn't already.